Hyperun
Hyperun 1.0.2 & Deluxe DLC! + SteamKeys contest!
---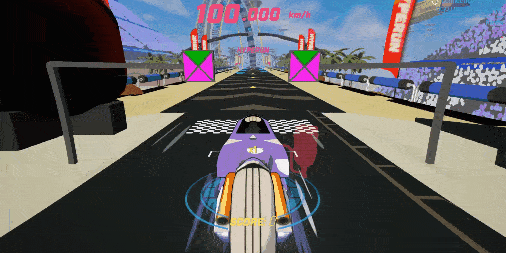 Retweet this tweet to have a chance to win the Hyperun Deluxe Edition! (game + DLC)!
Here's the Hyperun Deluxe DLC!

A music player to listen to all your favorite tunes from the game:
Over 40 tracks of generative music
Manual mode and Automatic mode
Nice juicy interface
Multiple resolutions support
Track length selection
Single Track selection
Speedometer
Three Playable Historic Builds:
Version 0.0.1: The first Hyperun prototype ever!
Version 0.1.0: This version was showcased at Stunfest 2016, and won public acclaim.
Version 0.2.4: This version includes a new vehicle, boosts, new musics, curved roads... !
And here's the second Hyperun update!

Bugs fixes:
Twitter GIF export
VSync for Automatic graphic scalability
Bike sponsors texture loading
Bike asset in tuto
Texture streaming
Sphere asset in customisation
Introduction video unloading
Credits
Please send us feedback about your Hyperun experience/bugs/ask for new content in this form!

Drive as fast as possible with style! ;)

Concretely,
Corentin, Tomavatars, MatLab